Ballistics
Long Range Shooting
One of the most important things in long range shooting is the direction of the bullet. Measuring wind speed and direction gives the shooter an advantage for success, making it easier to do a more precise shooting. Accurate, and reliable wind data on real time is valuable information to anticipate the trajectory of the bullet before pulling the trigger. You can track the wind right on your phone, on-site and at real time, to make a more precise shot.
The anemometer offers the possibility to measure and track wind conditions (speed and velocity) and connect it via bluetooth to any of your mobile devices. Thanks to its light and small design, you can carry it with you wherever you go!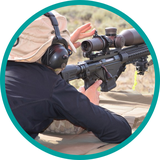 LONG RANGE SHOOTING
We are here to help you with your project!.
Whether you are an OEM, a farmer or the owner of a weather station do not miss the chance to test our products. We are open to modify our firmware, hardware and software to fit your needs.